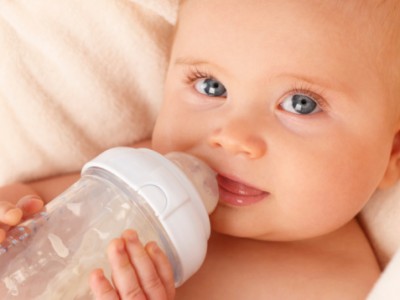 It took many parents by surprise when they heard that Bisphenol-A (BPA), a chemical used to manufacture baby bottles, was revealed to have negative effects on babies. Some of the issues included concerns that it may act as an endocrine disruptor and cause developmental and neurological problems during the critical stages of a child's development.
The BornFree range of baby bottles and accessories have been developed completely free from Phtalates, PVC and BPA and are promoted as a completely safe option for baby feeding. PlayPennies was fortunate to nab samples of these bottles and sent them out to two mums who had babies ready to move to the bottle.

These soothers come in a variety of different colours and also boast complete freedom from potentially harmful chemicals. They are made with orthodontic silicone with flexible handles and the teat is collapsible so as to encourage the natural development of baby's teeth.
"I immediately liked these soothers," said Anya, mother to Theo, nine months, "I am particularly fussy about which types of dummy I'm prepared to use and so the fact that these were both orthodontic and silicone made a big difference to me."
Both Anya and Mary liked the look and feel of the soothers, saying that they felt like good quality. They used these for a good two months and Mary said, "The dummy looks as good today as the day I received it. It's really good quality and very gentle on her skin."
The soothers retail for £6.99, a good price for a pack of two products that are from an excellent natural supplier and have won several baby magazine awards.

Mary and Anya received the 9oz plastic bottle twin-pack that retails for £13.99. The price fits in neatly with other brands and the bottles are good quality.
"The bottles are a nice weight and size, making them really easy for Theo to hold by himself," said Anya, "And even though I'm not quite sure if I am a believer in the BPA drama, I do feel very relieved about the fact that these promise no harmful chemicals."
"I love the fact that the bottles come with most of the accessories I need to get started straightaway," said Mary, "I also felt that they were solid and reliable. They also didn't scratch as easily as other brands I've used.
Mary and Anya have continued to use the BornFree bottles, Mary even bought some new ones for the baby she's expecting in July.
"I am a convert," she said, "I was completely freaked by the whole BPA thing in the media and didn't want to take any risks with my second and third children."

While our PlayPennies mums received two different kinds of teats, we are going to look at the variable flow range as they are the ones they ended up using the most. These teats are recommended for babies over three months old and come in a pack of four.
"The teats are easy to clean," said Mary, "This is a big deal for me as I tend to be a little on the fussy side and panic if I can't scrub them properly."
"Theo fed really well with these," said Anya, "He is a big eater, though, so these were probably the perfect choice for his hungry tummy. I can't say that they are any better or worse than other brands I've used, only that they did what they were supposed to and he didn't get bad wind."
Selling for £7.39 for a pack of four, these are around the same price point as most brands, if a little pricey, but they are well designed and our mums found them very reliable.
And Finally
If I were to tackle the entire bottle feeding indaba again, I would definitely look into going with products that are BPA free. Like Mary, I worried about the effects that they products I did use would have on my child. These are priced well and, for that extra security and reliability, are well worth the cost.