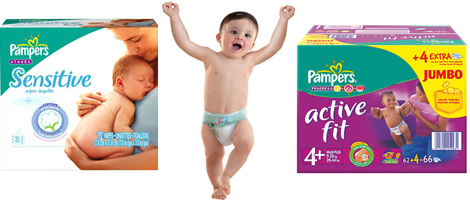 Tesco are having a fabulous Pampers special offer bonanza from today until the 19th of October. They've marked down a ton of Pampers products so if this is your brand of choice, then read on to find out more!
The following Pampers deals are not hip and happening at Tesco. I have given you an online link but this may take slightly longer to appear than instore, so you may want to go instore for some of them.
You can get two Pampers Active Fit Jumbo boxes for £10 or a Pampers Active Fit Jumbo pack for £7.50. Considering the usual price for one of these packs is £11.97, that's quite a lovely little saving. Also, these offers are available on any pack size.
Then the Pampers Wipes Sensitive are down to two for £18 for a pack of 12. That's a total of 756 wipes. That's a lot of nappy changes! These were also my favourite wipes when my daughter was young. So there you go, happy Pamper shopping everybody!