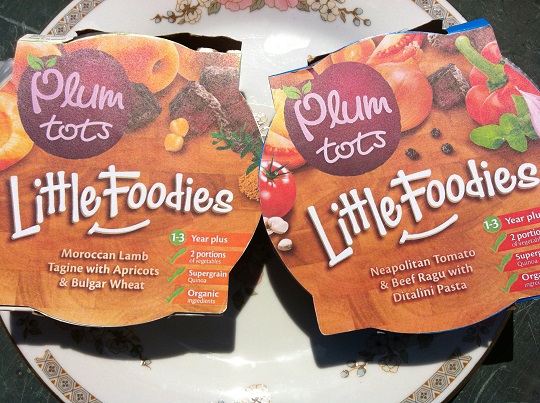 Weaning time is fun. And a relief. It is so wonderful to share in real food with your baby. Everyone has a different approach to weaning. For me, financial pressures meant making everything from scratch, and freezing in batches. But there were always times when I would need something more convenient.
That's where jars of baby food came in for me. Especially if we were travelling, on holiday, or staying at someone's house for the weekend. Or if I had just not managed to do any shopping or cooking.
Plum Tots Little Foodies range are organic, come in dishes, and have small, chewable bits to help encourage your child to use their tongue. All in, they sound pretty good. But how were they in reality? Read on to find out.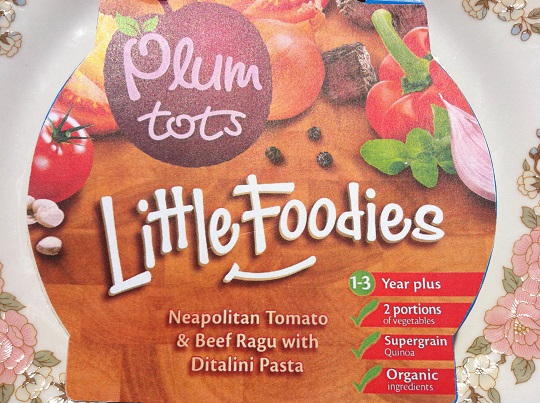 Little Foodies come in four flavours: Caribbean Jerk Mango & Chicken with Wholegrain Rice; Moroccan Lamb Tagine with Apricots & Bulgar Wheat; Neapolitan Tomato & Beef Ragu with Ditalini Pasta; and Vegetable Biryani with Wholegrain Rice.
Each pot is priced at RRP £2.99, and is aimed at toddlers aged one year to three years. You get at least two of the five a day portions in each pot, and a supergrain like Quinoa.
The two flavours we received were Neapolitan Tomato & Beef Ragu with Ditalini Pasta, and Moroccan Lamb Tagine with Apricods & Bulgar Wheat.
Plum describe the pasta as "our twist on an Italian classic (minus the salt and sugar that sneakily hide in most pasta sauces!) Our slow-cooked ragu incorporates a whopping eight different kinds of veg, and we've left the tiny pasta tubes whole to provide a bit of a chewing challenge."
It was actually tastier with more flavour than I expected. Our 18 month old tester though took a lot of coaxing to get through the dish. It did take the promise of an ice cream for dessert I'm afraid to say. However, it was eaten, and it is hard to say whether this was down to them not liking it, or just it being a new dish and not like mummy's pasta.
The adults liked the dish it came in - this is close to a proper bowl so you can serve it straight up instead of decanting the food into a plate. Handy if you're stopped at a motorway services, for example.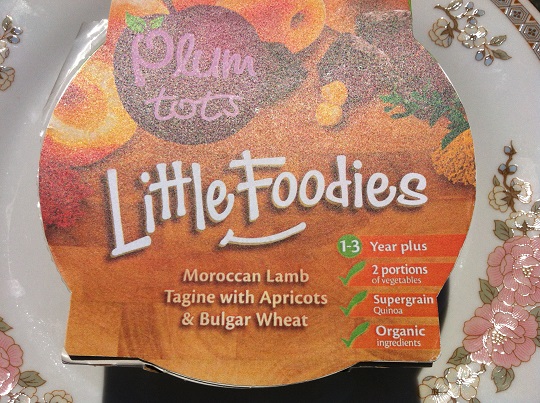 Next up it was the Moroccan lamb. Plum describe this as "a perfect hearty meal for a hungry toddler. It's a scrumptious stew that combines our award-winning organic Welsh lamb with sweet apricots, chickpeas and a touch of mild North African spice – so delicious that they'll never suspect it contains three portions of veg!"
We left it a week before trying again, so as not to bombard our young tester with too many new foods at once. Perhaps because she had never tried anything 'Moroccan' before, we had greater success here. With nothing to compare to she quite happily ate this without any coaxing.
Another note here as a parent though. The adults present thought that the dishes seemed a little too soft for older toddlers. We were going to try one with a three year old, but it just looks too much like baby food. And our three year old is already eating proper meals at nursery.
We felt he'd probably wonder why on earth we were feeding him mushy food like a baby. Perhaps one of the other two flavours would be more suitable. But an easy lunch for him would be hummous, with carrot and celery sticks, and grated cheese in a wrap. We couldn't think of any reason why we would buy one of these for a pre-schooler.
Pros: good, flavoursome, organic convenient meals at a price that makes them affordable as a one off
Cons: still a little like baby food which may put off some older toddlers
Overall verdict: 9 / 10