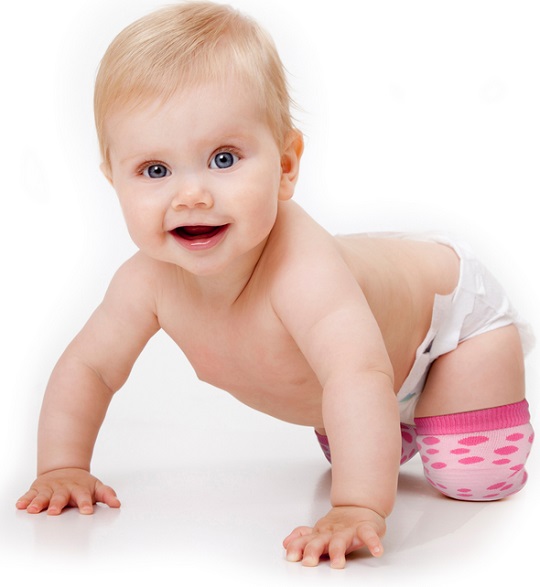 I never get tired of looking at babies, and any excuse to get a picture of one on the blog is good by me. What's even cuter about this baby (if that is even possible) is that she, or he, appears to be wearing little, tiny, leg warmers.
These are Plod Ons, designed to slip on to baby's legs to protect knees from hard floors when they first start crawling. We received a pair to review, which I'm really pleased about because I just had to see these things first hand for myself and try them out. Because on paper, for the life of me, I couldn't see any reason at all why anyone would want to buy a pair. Read on to find out how these little baby accessories worked out.
Plod Ons
Plod Ons have a recommended retail price of £5.99, and the cheapest we could find them was for £4.95 including delivery at Binxie. We received the Rainbow Plod Ons, pictured above. There are also Zebra (in blue), Pink Spot, and Cow print (black and white).
To be honest, I liked the Rainbow pair the most, the colours are cheerful, solid, and look great. Now, we have hard floors, and when my son was a baby eight years ago we were given a pair of knee pads designed to do pretty much the same sort of thing as these items do. Protect his knees when he started crawling.
However, these knee pads looked like the sort of thing you put on children when they first start roller skating, and they fitted the same way too. They felt bulky, were difficult to put on, and son hated them. And really, it was hard to see what the benefit was. How many millenia have babies been crawling? And carpet wasn't invented that long ago.
Even with a hard wood floor, the parents of our wee tester and I were still a little perplexed as to whether it was really necessary to pad the little ones knees. At 5 months old she seemed to be doing a good enough job on her own.
The thing is, the Plod Ons just looked great. Although it is rather cold at this time of the year, with a well insulated house, and a warm floor, babies may even now be crawling about with just a vest on. Or having a bit of fun nappy off time. A little dangerous, but they do love to roam about naked.
The material is a very soft and stretchy cotton. This felt great and all the adults agreed on this. In fact, we'd like some in the same material please.
There's nothing bulky about the Plot Ons, the knee padding isn't obtrusive, and the leggings themselves are really easy to put on. Baby seemed to find them very comfortable too.
If you've got any slightly scratchy, or less than smooth, surfaces where baby might want to crawl, these would be very useful. Outside on the patio in warmer months, for example. Our tester's parents both agreed that they could definitely see the potential there. We weren't able to test this though.
At less than £5, these aren't that expensive. True they're not necessary either, but there's something just so gorgeous about them that they would make a great, frivolous sort of present for parents. They're the sort of thing that you might not buy for yourself but would appreciate giving.
Our final verdict? Totally and utterly not at all a necessity, but very cute and desirable. And the colours were a big hit.
Pros: soft, stretchy material that is comfortable to wear, easy to put on, and looks cute
Cons: well strictly speaking, you could live without a pair of these
Overall verdict: 9 / 10