PlayPennies Giveaway: 10 Incredible Bundles Of Bathtime Fun With Crazy Soap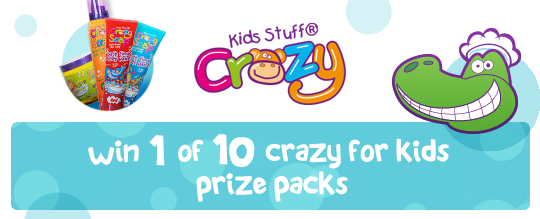 How would you like to win one of ten amazing packs of Crazy Soap for you and the kids to enjoy in the bath? Well, we have teamed up with Crazy Soap and you can win an utterly divine pack that has tons of goodies squished inside.
Each of the prizes has one foam, one blue paint, one red paint and one goo and each pack is valued at £10. Winning one of these could not be easier as all you need to do is follow the instructions below to get started.
Crazy soap is one product that we here at PlayPennies HQ universally love to use. It is great value for money, loads of fun in the bath, and keeps kids clean. You can make shapes out of it, squelch it, share it, blow it and stomp on it without worrying about the mess. Now that is my kind of product!
So how can YOU win one of these awesome prizes?
How To Enter:
Standing a chance to win one of these gorgeous sets is simple.
Question: Visit Kids Stuff Crazy and tell us what colours the foam soap comes in.
• Leave a comment in the thread below with answer (1 entry)
For bonus entries to the competition:
• Subscribe to the PlayPennies daily email update (1 entry)
• Tweet a link to this contest and leave your twitter link below (1 bonus entry)
Rules:
1. Contest ends on 11 November 2012
2. Open to UK residents only
3. One type of entry per household
4. Must complete email verification when subscribing
5. Must include a valid email address if commenting
6. Admin's decision is final in all cases