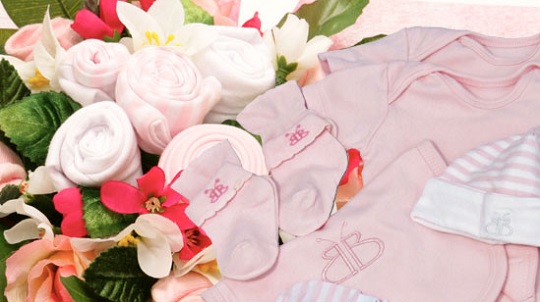 Baby Blooms is a totally cool UK company that creates the most amazing baby gifts. They're the pioneers of baby clothes bouquets, the beautiful and more lasting alternative to fresh baby flowers. Baby Blooms are still offering all PlayPennies fans a unique and exclusive discount of 10% off, lucky us!
We just wanted to remind you that Baby Blooms are still offering all PlayPennies fans 10% off anything on their website. Baby Blooms baby clothing bouquets are amazing, they look just like arrangements of fresh flowers. When you look a little closer though you'll realise that they are actually hand-rolled items of baby clothing (bodysuits, socks, bibs and hats) made for infants 0-4 months old. Combine that with delicate silk flowers and foliage hand-tied into a colourful arrangement, and you've got a truly unique and unusual baby gift.
Discount: 10% off
Promotional code: PYP11
Expires: 31 July 2013.
Go visit Baby Blooms armed with your PlayPennies exclusive promotional code and get some great deals on baby gifts before it expires. You still have a few months to use this promotional code so try not to forget about it the next time you're looking for an awesome baby gift. And keep your eyes out for our review of their utterly awesome and tasty CHOCOLATE blooms tomorrow!