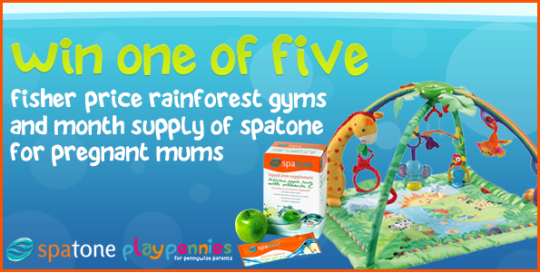 *****THIS COMPETITION IS NOW CLOSED****
Spatone has sidled on over to us at PlayPennies and offered all you lucky expectant mums the chance to win one of FIVE Spatone supplements as well as a Fisher-Price Rainforest Melodies and Lights Deluxe Gym to help your little ones develop just as brilliantly as you.
Did you know that pregnant women can have low iron levels due to the increased demand of iron for the optimum growth and development of the baby? In the last six weeks of pregnancy the baby builds up its own storage of iron from its mother which baby will then use for the first 4-6 months of his/her life – therefore mum's iron demands can triple by the end of pregnancy. If mums-to-be can't get enough iron from their diet, an  ideal way  to top up her iron levels is by taking an iron supplement such as natural Spatone.
Spatone iron rich water is sourced from the Welsh mountains of Snowdonia National Park and can help top up your iron levels with fewer of the unpleasant side effects often experienced with conventional iron supplements. The iron naturally present in Spatone has been shown to be easily absorbed, with an average of 40% bioavailability, compared to 5- 20% from food and other iron supplements. Spatone is available from Boots priced at £10.55 for 28 sachets (4 weeks supply). For more info visit Spatone! 
Just remember that it's important to follow a varied and balanced diet and healthy lifestyle. Food supplements should not be used as a substitute for a healthy balanced diet. If pregnant or breast feeding always contact a healthcare professional before taking any food supplement.
For your chance to win a month's supply of Spatone plus a Fisher-Price Rainforest Melodies and Lights Deluxe Gym worth £60 follow the instructions below…
How to enter:
To be in with a chance of winning this amazing prize, pop on over to Spatone and find the answer to the question below. THEN come back here and put your answer into the comment box below.
Tell us which one of the following statements is true:
1. Spatone Apple is made from mud found on distant shores to help your stomach cope with reflux
2. Spatone Apple is packed full of chocolate
3. Spatone Apple is your daily iron and vitamin C supplement that helps maintain a healthy iron levels and overall wellbeing
BONUS ENTRY RULES:
Recommend a friend. Get a friend to enter the competition and you both get TWO entries.
Tweet the competition. Include the link, tell your friends, share the link below and that nets you another entry.
Rules:
Contest ends on 22 April 2014
Open to UK residents only
One type of entry per household
Must complete email verification when subscribing
Must include a valid email address if commenting
Admin's decision is final in all cases