PlayPennies Competition: 20 Sets Of Vosene Kids Up For Grabs!!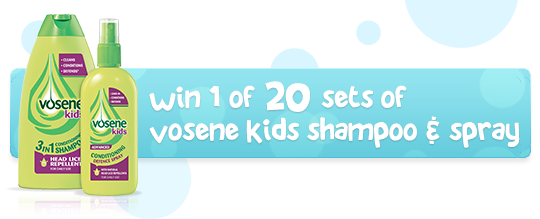 To celebrate the launch of Vosene's Facebook page, we've got 20 sets of the Vosene Kids shampoo and spray to give away. This is the BEST anti-lice defense out there (according to me, anyway. I swear by it) and you can get your supply for free by entering this ace competition!
When it comes to tackling head lice, prevention is always better than cure and that's where Vosene Kids helps.  Its shampoo and spray contain natural ingredients Tea Tree Oil and Lemon Eucalyptus to help prevent head lice, giving you peace of mind that you are looking after your children's hair health!
Wash your child's hair with the Vosene Kids 3 in 1 Conditioning Shampoo (RRP £2,54 for 100ml) and then follow with the Vosene Kids Advanced Conditioning Defence Spray (RRP £2.54 for 100ml). The spray can be used on damp or dry hair to remove knots and tangles and alongside the shampoo will help keep head lice at bay.
Vosene Kids is available from Boots and high street grocers nationwide. Enter the competition for your chance to win one of twenty sets of the Vosene Kids shampoo and spray.  To find out more about the range visit Vosene or join in the conversation on Facebook and chat to Vosene Kids on Twitter @VoseneUK!
You can also enjoy the wonders of technology by using the Vosene Nitwatch Heat Map which will not only show you where the outbreaks are, but you can enter in your own area if there is an outbreak there. This way everyone can help everybody else.
How to enter
Tell us why you hate lice in the comments below and the most shiverific tales will WIN!
Rules:
UK entrants only
Competition period: 19 August – 01 September 2013
One entry per person
Competition subject to change and admins decision is final in all cases