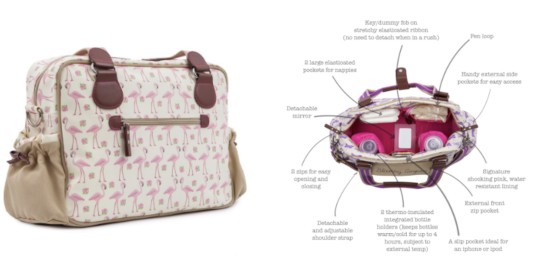 Remember those Pink Lining change bags we unearthed a while back, that you loved so much? Well Pink Lining has a sale on right now, and although the prices aren't quite as great as the bargains we found back then, there are still some pretty good savings to be made on their gorgeous change bags.
The best savings are on the Woodland Bramley Tote bag, the In The Mews Pink Bike Bramley Tote and my personal favourite, the Flamingo Walk Bramley Tote, all of which are reduced from £69.00 to £48.30.
I may have a bit of a 'thing' for flamingoes but c'mon, how gorgeous is that funky flamingo print? So much more 'me' than the cupcakes!
The Not So Plain Jane bags are also £48.30 right now, reduced from £69.00 and they're available in a range of designs, too. They have an external zip pocket - perfect for your purse or wallet - plus two elasticated side pouches for drink bottles or snacks. The shoulder strap is adjustable so you can make it long enough to fit over any the handles of a pushchair, and it also has 2x insulated bottle holders, 2x nappy pockets, a pen holder, key fob, mirror, phone pocket, small zip pocket, plus a padded changing mat and wet zip bag.
So.Very.Tempted...