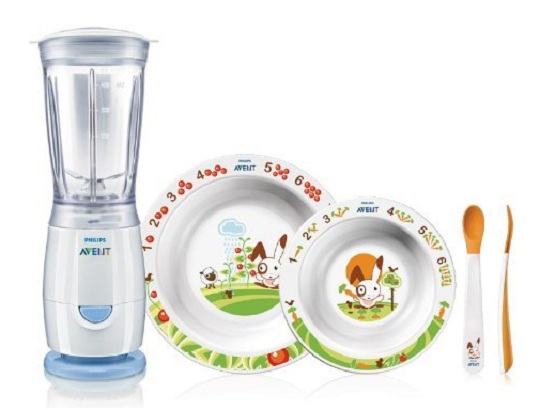 Get everything you need to wean your toddler with the Philips Avent Toddler Weaning Set. This set usually retails at £53.00 so you'll save a super £26.42 or 50% when you buy it on Amazon for £26.58. On top of that saving you'll get FREE delivery in the UK with Super Saver Delivery.
This set is a really easy and convenient way to get everything you need to start weaning your child all in one go and at a great price. The set is easy to use at home, easy to store and helps you to create simple fresh home-made food for your baby. Once you've put your culinary skills to the test and made your baby's healthy food you can store it in the fridge or freezer with sturdy stackable cups supplied with the set.
The set is colourful and fun, designed with a leading child psychologist and nutritionist to make sure your baby gets everything he or she needs and to make the weaning process as easy as possible. Lastly the easy-scoop sides make the bowls ideal for self-feeding so you can get them feeding themselves as soon as possible with as little mess as possible.