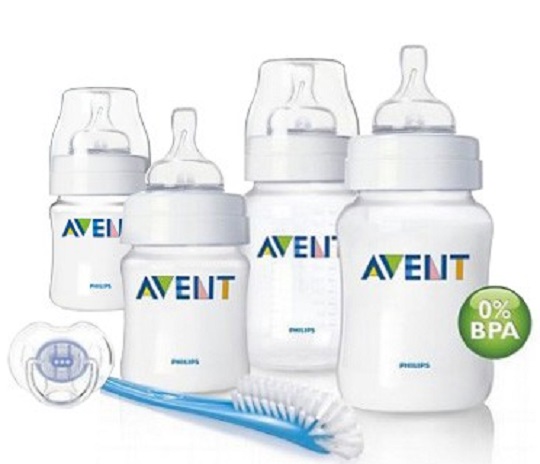 Baby Security has dropped the price on the Philips Avent newborn starter kit from £27.99 to only £12.99 which is a pretty awesome saving, if you don't mind me saying so! You can shave over 50% off the original price and stock up on some baby essentials.
Philips AVENT Newborn Starter set gives parents everything they need to bottle feed their newborn child. Whether feeding exclusively with bottle or combining breast and bottle the set comes with everything you need to be equipped for feeding. The Avent starter set includes 2 x 125-ml bottles with newborn-flow teats, 2 x 260ml bottles with slow-flow teats, plus a bottle & teat brush and finally a newborn soother.
Do not worry about age, when your baby grows, you can continue to use the same bottles all that is required is simply changing the teats to medium, fast or variable flow.
The Philips AVENT Classic Feeding Bottle included in the set is designed to work with your baby's natural feeding rhythm. The teats on the bottles help your baby to control milk, making it easy to feed with a bottle only, or combine bottle and breastfeeding. Philips AVENT bottles have been clinically proven to reduce painful colic and discomfort after feeding.