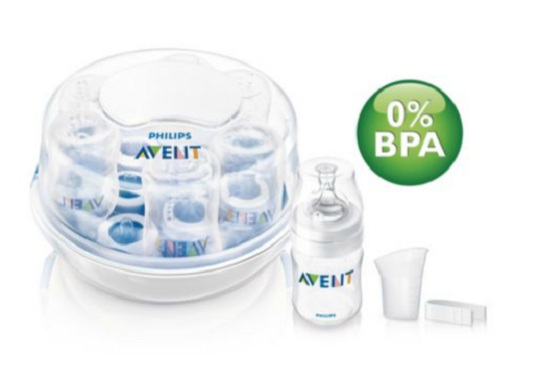 This fabulous winner of the 2011 MumsNet Award Best Feeding Product Category, Best Steriliser is half price at Argos. The Philips Avent Classic Microwave Baby Bottle Steriliser was £23.99 but is now only £11.99. These microwave sterilisers really make life with a baby a lot easier.
This microwave steriliser from Philips Avent is one of the greatest inventions. It is ideal for traveling and at home because of its small size and large capacity. Sterilising bottles in the microwave is so much easier and safer than other methods using chemicals. It fits up to six bottles at a time and is a convenient and safe way to sterilise your baby's bottles.
Some other great features of the steriliser are that it uses no chemicals at all and it dismantles for easy cleaning. It sterilises up to 6 bottles at a time and each sterilisation cycle takes up to 6 minutes. It includes one set of tongs and one measuring cup.