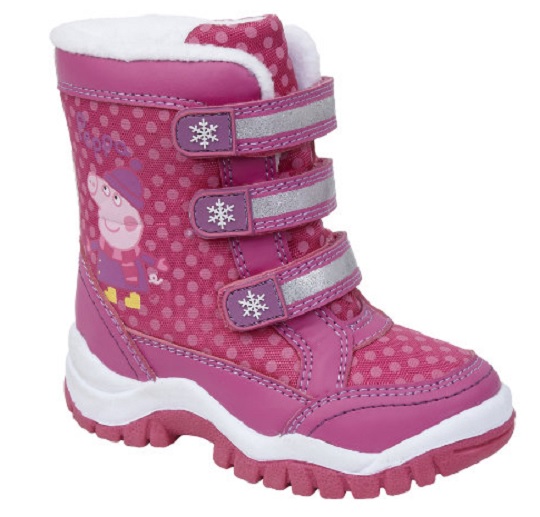 These are just too cute! I know it's almost the end of winter but I just couldn't resist these really cute snow boots from Mothercare. They're a pretty pink colour with everyone's favourite Peppa Pig character on the side and are a pretty good deal at £8.00. They've been reduced from £16.00 so basically they're half price.
These lovely pink snow boots, featuring the friendly television character Peppa Pig, are easy to fasten for quick dressing and they're ideal for keeping your little girls feet toasty warm and super dry while having fun in the snow. They're made from a waterproof PVC outsole and PVC/Textile upper layer so these snowboots will keep all the water and snow out and the non-slip sole will make sure that she's got loads of grip when out and about in icy conditions.
The Peppa Pig Snowboots are ideal for playing in the winter snow but they'll also be just as good when out in the autumn or spring, when the weather can quickly take a turn for the worse. Regardless of what you're little one gets up to, they're super easy to wipe clean with a dry sponge when you get back home.
Our Peppa Pig Snowboots are a cute, fun and very practical addition to your little one's wardrobe, perfect for those winter days out in the snow.