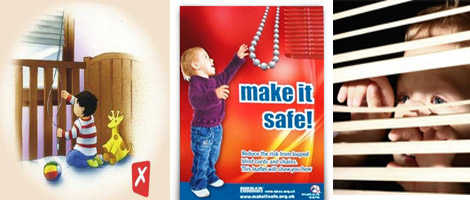 The Royal Society for the Prevention of Accidents (RoSPA) is currently running a Blind Cord Safety Campaign and giving away free packs to parents who want to keep their homes safe for their children. Since 2004, RoSPA has called upon the blind industry to take action to reduce the risk of looped cords and this pack is going to help any parent help prevent accidents in their home.
At the moment RoSPA is hoping that there will be a voluntary agreement among manufacturers and retailers to end looped blind cords forever. If you happen to have a blind with a looped cord then it is essential that it is fitted with a safety device to protect your children.
Research has shown that the most accidental deaths involving blind cords happen in the bedroom and occur in children between 16-36 months. Toddlers can be strangled quickly and quietly by looped cords so let's prevent this now!
RoSPA are giving away a free Make it Safe pack which includes an advice leaflet, a blind cord cleat with fixing instructions, and a warning triangle so you know what to look for when buying new blinds. Just click on the Apply for Free Pack button on the site.
Thanks to Weemee at HUKD!