Pampers Change Mats Review

A few weeks ago, I reviewed the Huggies changing pads which I have been using for a while. I'm now going to review the Pampers change mats too.
The Pampers change mats are disposable waterproof mats, which have a soft top, and a coloured base. When I first took them out of the packet and used them, I unknowingly placed it upside down. Looking closer, they have writing all over the coloured side, saying "other side up." If they hadn't written that... there would have been a few messes in my house!
As I mentioned before, my baby changing station has a cold top, made of plastic coated foam. I used these changing mats on the top of the baby changing station, so baby didn't get cold bits and decide to pee all over everything!
I quite liked the Pampers change pads, though I feel like they are very similar to those large bed pads you get in the hospital, so that had a negative image in my mind.
The Pampers change mats are also quite large - I am cutting them in half and getting double the usage out of them. My baby is only 3 months old, and half a change mat is more than big enough for her. I think each change mat lasts for about a week, before baby makes a mess on it, and it needs to be disposed of.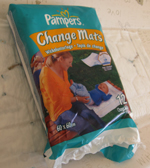 I also find the Pampers change mats handy when she's getting out of the bath.
Price wise, they're quite costly in my opinion. They come in packs of 12, and these range from £3.74 at Asda to £4.37 at Tesco and Sainsburys (at time of writing).
Out of the Huggies and the Pampers change mats which I have reviewed, I prefer the Huggies, mainly because they don't remind me of the hospital!
On that last thread though, PlayPennies parent Rebecca suggested just putting a hand towel down on the changing surface which can be washed when needed. This is also a good idea :)
What do you use?