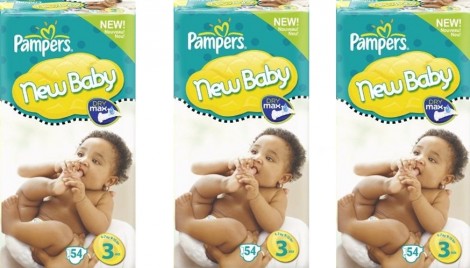 The Pampers New Baby range of nappies is on sale at Amazon, they have been reduced from £17.96 to only £10.33 including free super saver delivery. This is a very tidy saving of £7.63 for enough nappies to keep you going for a while.
The Pampers New Baby packs are available in sizes 1,2 and 3 and the price includes two economy packs of 54 nappies. That's a total of 108 nappies for only £10.33, a complete and utter bargain. Although I must say that I disapprove of disposable nappies and their effect on landfill.
Anyway, the Pampers New Baby economy pack nappies have been designed specifically for new babies. They boast a dual absorb system with premium comfort for delicate skin. They are soft and breathable with super stretchy sides and will absorb that new baby poo quickly!
So, if you need nappies for your baby, then this Pampers New Baby nappy discount set should be right up your street.
Thanks to princessyin at HUKD!