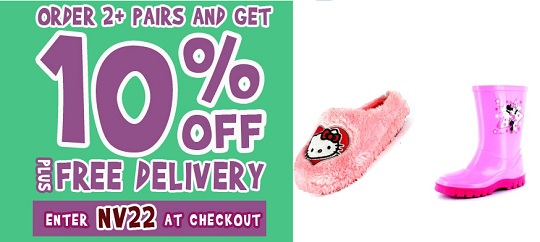 Kids Shoe Factory offer a great range of fun kids shoes. Buy two pairs today and you'll get 10% off along with FREE delivery, awesome.
The Kids Shoe Factory has every shoe your child needs this winter. There are adorable cartoon slippers for boys and girls to keep feet warm and brightly coloured wellys to keep feet dry. Girls will love the pink Hello Kitty Booty Slipper while boys will think the Thomas Bertie wellys are super cool. My personal favourite is the Peppa Pig Snow Boot, it's adorable. Along with boots and slippers there are also fun pairs of trainers and even sandals. You can get just about any cartoon character and brand from Barbie to Moshi Monsters.
The great thing about the Kids Shoe Factory shoes is that as well as being affordable they're fun so it's less of a fight to get them on in the morning. Kids grow out of shoes so fast that I feel like I'm buying them all the time, at least with this offer I get a discount and free delivery!