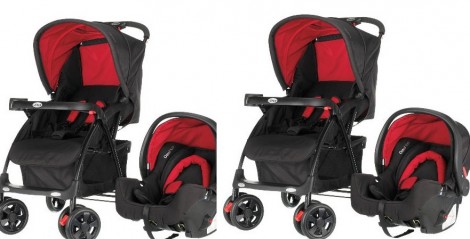 The Obaby Monty travel system has been marked down by half price from £170 to £85 and you get quite a lot of bang for your buck with this set. You are paying a very good price for this system and it will last you until your little one is able to walk and run without extra wheels.
The Obaby Monty Travel System comes with a forward facing buggy, an easy click car seat, a large shopping basked and a rain cover. This is pretty much everything you need to get you and your baby mobile from day one. No need to spend thousands on some poncy system at all.
The buggy has a multi-position seat unit along with a 5-point safety harness that is suitable for babies from birth and it also includes a full lie-back option. The buggy is designed to be folded up quickly and compactly so it will fit into the boot of your car easily. And the fabric is wipe clean too – bonus!