Bargain is a word we bandy about all the time here at Play Pennies but this In The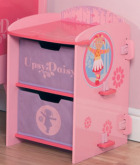 Night Garden Upsy Daisy bedside table really is an absolute bargain.
In fact it would probably rank as a bargain at its usual price of £34.99  but right now Toymaster are offering it with a rather lovely price-tag of just £9.99.
There are just three reviews on the Toymaster website but they're all glowing. The customers who bought it all agree that it's excellent quality and sturdy to boot, which impressed me because the 2 little drawers are described as 'fabric' and I've often found that fabric furniture and energetic toddlers do not mix all that well.  But this sounds like an exception to that rule so I don't suppose they'll stay in stock for long.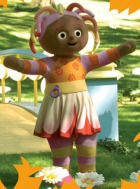 I've yet to meet a pre-schooler who doesn't love In The Night Garden and Upsy Daisy has to be one of cutest TV characters for quite some time. With that crazy hair and dress sense she appeals to most little girls and this  would make an ideal addition to a little lady's playroom or bedroom, perfect for storing books or toys in.
All together now; Upsy Daisy here I come, I'm the only Upsy one, I'm the only Daisy too, Ipsy Upsy Daisy Doo!
Thanks to smiler001 over at HUKD.