Sometimes when a product lands on my desk and I pick it up and look at it, it takes me entirely by surprise. The Neckerchew from Cheeky Chompers did just that. It's one of those light bulb moments that came to late, since someone else already had it and made the product, hence it's on my desk, but why oh why didn't I think off that!
To be honest, my first child never needed a bib. I don't know why but we had hundreds of bibs that were just never used. She had her first teeth at four months, and the dribbling kind of stopped then. My second was slightly different. We didn't use masses of bibs with her either, (maybe because we never purée fed, we didn't need the major clean up) but she did go through a fierce gnawing stage with her teething. As it happens, that's just when the Neckerchew (£9.99) arrived.
We were on our way to an event in London, so I popped the Neckerchew around her neck and off we went.
The Neckerchew is a neckerchief style bib with a unique textured teething triangle on the end, designed for your baby to chew as they would a teething toy.  The upside of this specific design is that you don't spend half your life picking up chew toys off the floor.  It's a tactile, durable, washable and safe teether, that won't get lost, swallowed or otherwise misplaced. It also means it stays more hygenic than a toy that spends a lot of time being dropped.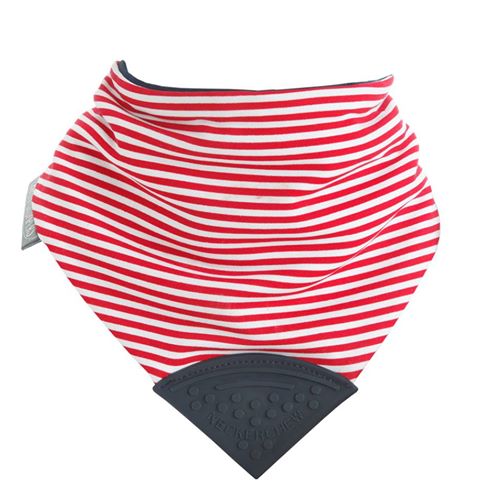 It's also not painted or covered, so it won't flake or peel, and it doesn't contain phthalates, so is toy-quality safe.
The bib itself is super soft, fabulously absorbant, double sided cotton. This means if one side gets too grubby, you can swap it around, although obviously that may defeat the purpose of keeping the clothes clean or dry. There's a hidden middle layer designed to lock in moisture, and unless you turn it around, should keep a dribbly baby's chest dry for a long time. What the double sides do offer you though, is the ability to have two bibs that match clothes, rather than one, which is always nice.
If you head over to Cheeky Chompers now, you'll find there are 10 styles to choose from, in blues, pinks and various shades in between.
Neckerchews have two poppers on the neck to keep them secure, and I must say we haven't had any problems with it coming off, being pulled off or otherwise coming loose. It also means as your baby grows, you can move the popper along, so it will last longer.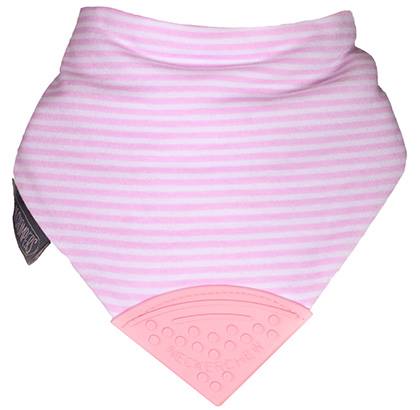 When you're done with the Neckerchew, you can pop it in the wash and wash at up to 40C. It dries quick enough, and if you're going to use it every day, you might want two, so you can alternate.
Overall I think it's a fabulous idea, and it's really stylish looking.
In fact, each time my daughter wears it, people comment on how useful it is, how clever it is and how stylish it looks. It goes well with a variety of clothes too, since it's understated.
The Good
It's a brilliant idea
Neckerchews are pretty unique - I've not seen anything like it.
I love baby equipment that does more than one thing, and this functions as a bib and a teether, and that is great.
It's very nicely made. It looks and feels like quality.
The Neckerchew washes easily, keeping the chew toy element nice and clean.
The Neckerchew stays on, so you don't spend your day picking up a chew toy, or washing it.
The Bad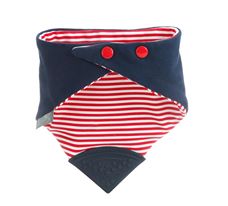 I can't think of anything I don't like about the product itself. Price wise, it's quite a lot for a bib, or even a chew toy, but to be honest, one or two of these in your repertoire and you should save some money on all the things you lose and then have to replace anyway.
The Verdict
Not really a baby essential, but a very useful product, I would say the Neckerchew makes a practical new baby gift that would actually be used. It's pricey, but unique and worth it. It's definitely worth having one or two at least for those difficult teething times.