Mmm, sheepskin rugs for babies, yummy. These sheepskin liners were all the rage when my eld

est child was born. At the time I thought they were yet another non-essential that it wasn't worth spending money on but there really is nothing quite like letting your newborn baby snuggle into the cosy warmth of a sheepskin liner.
These aren't cheap but they do last forever and at £41.99 this is far and away the best deal I've seen on these for a while.
A sheepskin liner is perfect for keeping your baby comfortable while out and about in the pushchair or car seat. Because of the natural insulating properties of skeepskin, the liner keeps baby warm in winter and cool in summer, so it's one of the few things your baby will use all year round.
This particular liner is made from real sheepskin fleece with a cotton backing. It has reinforced pre-cut holes to fit the five-point harness of a standard pushchair so it ought to fit most car seats and pushchairs.
It's also machine washable on a wool programme although when I tried this I seem to recall that it took days to dry, so I recommend washing it on a hot and sunny day. I wonder if we'll ever get another one of those? Sigh.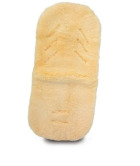 Personally, this would be in my top ten list of essential items for a new baby. Babies just adore the cosy softness against their skin and the snuggly texture is lovely for little hands to explore.  I love the fact that both my boys slept on this in their moses baskets and snuggled into it in their puschairs for several years, and yet five years on it's still in use almost every day, mostly as a favourite extra snuggly layer when cuddling up to watch TV.