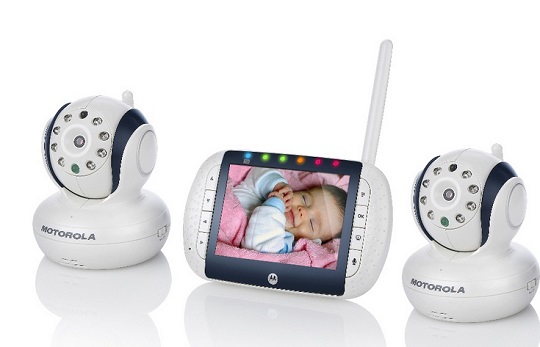 I rather like this little online shop as it has a huge array of baby equipment and quite a few items are reduced brilliantly. This  Motorola MBP36/2 Camera Baby Monitor was on sale for £239.99 but has been reduced by £100 to £139.99 which is a superb saving.
Motorola MBP36-2 Digital Video Baby Monitor is the latest addition to the Motorola family similar to the MBP36 but the MBP36/2 comes with an extra camera to make monitoring your baby easier than ever before. Motorola MBP36-2 has a large 3.5" LCD Colour Screen with high definition and 25 FPS for improved video quality.
Automatic infra-red night vision means you can see your baby in the dark and talk-back allows you to soothe baby with the sound of your own voice which is often enough to get baby back to sleep. The Motorola MBP 36-2 comes equipped with a high sensitivity microphone picking up the quietest of baby sounds; you can hear almost anything from your baby's room. The camera can be Rotated Tilted and Zoomed remotely from the parent unit, meaning no long trips to disturb your baby's sleep just to adjust the camera to gain better view.
The parent unit comes complete with a rechargeable battery which, a very useful safety feature in case of porwer cuts or short periods away from electrical power source. Motorola MBP 36/2 also comes with extra data encryption for added security giving you full privacy for you and your child.