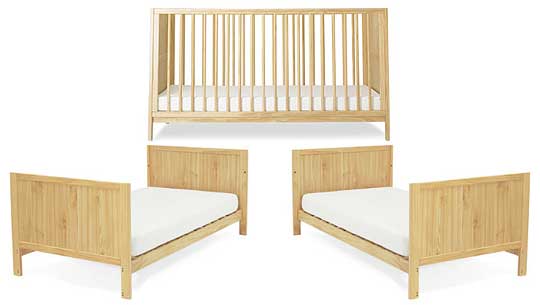 I love the look of this Hertford cot bed from Mothercare, and if you're in the market for a cot bed then I'd bite their arm and grab one of them for £50, rather than £99.99.  In fact, even at their full retail price I'd still bite their arm off!
The reason I suggest limb dismemberment of Mothercare, in relation to this deal, is simple: cot beds can be EXPENSIVE!  All of my children had cot beds and with for my youngest's, I spent WEEKS stalking cot bed sellers on eBay, in a state of high alert, waiting to POUNCE the moment it looked as though I could get one for around the £80/£90 mark - that was a bargain, which makes £50 for this one seem like stealing!
For my money, the Hertford cot bed is fab': it's elegant, it's understated, it will fit with any decor and it's nice and simple.
It suitable from birth and will 'fit' your child until they're around five years old; it has three different mattress height positions, converts into a junior bed when they're ready to leave their cot behind and has a plastic teething cover on the horizontal rails - this is GOOD; my eldest son used to scrape his teeth on the cot rails, it sets my teeth on edge just thinking about that again.
Cot bed mattresses are sold separately (they always are) so you can choose the mattress you want, rather than being dictated to by the manufacturer - at least that's the official line, I think it could also be just another way to fleece even more money out of new parents (ohhhh, so cynical!).
You can collect your Hertford cot bed in-store or you can have it delivered to your home, either of those options are freeeee; hurrah!
Thanks to ringo7 at HUKD