Mocc Ons Slipper Socks Review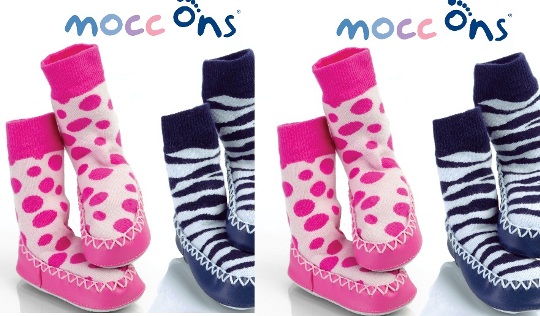 The Mocc Ons are really clever slipper socks that are a combination of slipper and moccasin so they stay on tiny toes and keep them wonderfully warm in winter. I got an adult pair of these a few years ago and I can honestly tell you that they are still in mint condition. These are sturdy and well made slippers.
Mocc Ons are easy to use. You just slip them on over baby's feet and the knitted, stretchy fabric encases them like a glove so that the moccasins don't fall off. The base of the Mocc Ons is leather so it is robust and warm and it keeps little feet protected.
On an adult, these shoes are fab, especially if you suffer from cold feet. The stitching that holds the knitted fabric to the leather is really strong. Mine have been washed and worn ad nauseam and they are still completely unfrayed. On little feet they really do come into their own.
You see, these were tested on a friend's nine month old. He is zooming about at high speed and pretty much anything you put on his feet comes off. Socks just slide off. These shoes stayed on. His mother is so in love with them that she's getting more in different sizes, including a pair for herself!
The Mocc Ons are washable and durable and come in either blue zebra stripes for boys or pink spots for girls. They are very comfy and kids seem to enjoy wearing them as our test subject didn't try and pull them off or complain.
Mocc Ons range from £7.99 to £9.99, depending on where you choose to buy them, and they will last for ages. I give these a firm thumbs up for quality and comfort and a vague nod to the price – they are not cheap but they are worth every penny.