Sometimes you go to a baby website and just fall in love. Everything is so beautiful, you want all your friends to start producing immediately so you can start buying presents. Or, even better, having all the doting aunts and god mothers for your little arrival go shopping there.
Milk & Honey was one of those websites. Actually it is for more than babies and little ones. There are sections for bedroom, bathroom, living & dining and other items like candles, and duvets. But my favourite had to be the Manuka Honey Skincare range.
However, we're not here to talk about that, unfortunately. Milk & Honey sent us a baby towel to review. Nothing special you might think - well you'd be so very, very, wrong. I haven't been this excited about a bath towel since I saw the first Cuddledry. Read on to find out more.
Giraffe & Mouse Hooded Towel
Available in either cream or white - ours was white - the Giraffe & Mouse Hooded Towel is priced at £19.50. I can hear you going ouch from here. For a baby towel? But then what do you spend on towels for yourself. I can tell you from personal experience, skimping in this area is a false economy.
I received a gorgeous hooded towel gifts set when my son was born from a friend, and I have just this minute folded the towel and put it away with the rest of the freshly laundered towels. Yes, I still use it seven years later and it is still beautifully soft and gorgeously cuddly. I just love to dry my son down after a bath with it, and I love using it on my skin too.
So the price isn't too outrageous in my opinion if the quality is there. If it is, then this would make an outstanding gift for a new mum. The towel has, what the website calls, a warm beige trim. In fact everything about the website is warm beige, which is probably why it calls to me. That's the colour I have chosen for my bedroom, it is just so soothing.
Made in Portugal, the design is exclusive to Milk and Honey. The towels are made from 90% cotton, and 10% polyester. The designs are made with felt, cotton and embroidery.
There's a large, embroidered, friendly looking mouse and giraffe holding hands on the corner of the hood. These are beautifully made, and do look lovely. My son was immediately attracted to them, and wanted a towel too, so there'd definitely a market here for older kids with a sentimental streak.
It arrived wrapped beautifully in tissue paper. That felt quite luxurious when opening it. For an extra £3.90 you can get it gift wrapped and given the quality of the wrapping I'd be tempted to opt for that. Inside the towel is carefully wrapped in a plastic holder that unties at the back and the towel just slides out. Might possibly come in handy for carrying about, say to the grandparents. I took a photo of it in the holder to show as it is hard to describe.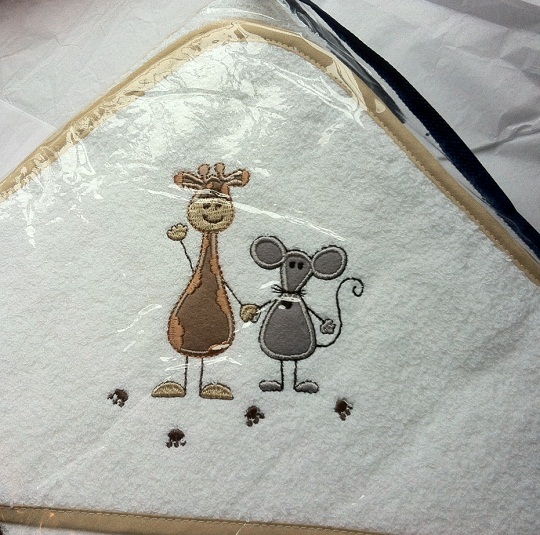 At 100 x 100 cm the towel was more than amply sized for our wee test baby. It is so so so soft. Both the mum and myself spent a little while cuddling the towel. You will too! Baby was quickly dried, and the towel hardly felt wet. The hood slipped naturally over baby's head, and wasn't too tight. The only word I can think of is snuggly.
Pros: beautifully made, gorgeously soft, excellent quality
Cons: at this price, a luxury item rather than a necessity. Ideal for gifts though.
Overall verdict: 8/10