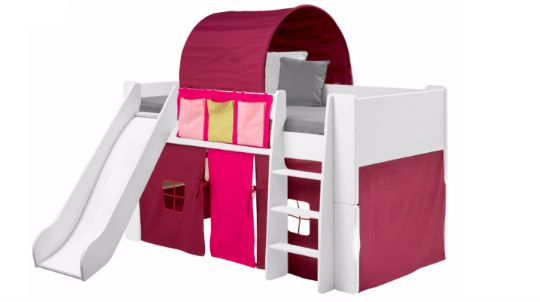 This Mid Sleeper Bed is a fantastic price at Asda George as it has £120 off it's previous price of £370 and is now down to just £250! There are several different bed packages in the Tic-Tac-Toe range reduced on the website but this is by far the best value as it includes the Mid-Sleeper Bed Frame, a Slide, and the matching Tent and Accessories!
It's only the pink and white one package that is this price, as the same set in blue is only reduced to £300. There are blue packages that are £250 but they include the Slide or the Tent and Accessories, not both.
As this is a large furniture order you cannot use the free click and collect from store service, so home delivery add a further £8.95 to your order, but set against a saving of £120 this is still a great value deal.
So do you know anyone who might like this bed? I can't see there being too many arguments about getting out of bed in the morning if you get to use a slide to do it!
Thanks to cliffymikey @ HUKD