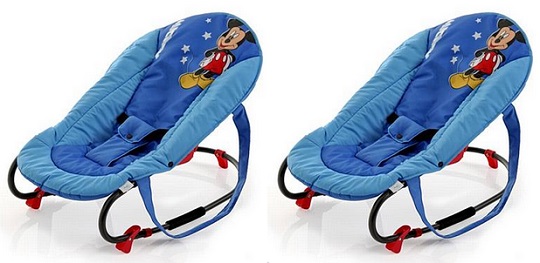 Save a lovely 50% on the Hauck Rocky Deluxe Baby Bouncer from Kiddisave. The bouncer comes in a cute Mickey Blue design and has been reduced from £49.99 to £24.90.
The Hauck Rocky Bouncer has loads of great features to keep your baby safe and comfortable while at the same time making this a really good deal. The bouncer has a soft cover which is easily removable and washable in your washing machine. It can also be easily carried and transported with carry handles.
The bouncer can be adjusted into three different positions so that you can pick the most comfortable position for your little one. The adjustable back unlocks with one hand to give you the different positions and the seesaw motion is lockable. The Hauck Rocky Bouncer can be used in a fixed position or as a rocker.
Whether you use the bouncer to bounce your baby to sleep or even just settle him or her down when they're grizzly you'll struggle to find another one that is 50% off!