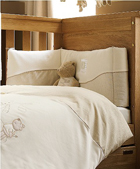 STOP! DO NOT CLICK 'SUBMIT ORDER'! DO NOT PASS GO! DO NOT COLLECT £200!
Click HERE to go to Mamas & Papas
Discount: 10%
Minimum Spend: £0.00
Promotion Code: CRM24MARCH
Expires: SATURDAY 27 MARCH 2010
This Mamas & Papas promotion code will bag you an extra 10% off everything for TOMORROW ONLY (Saturday 27 March) so just hang ten until then OR go and have a look and see if that extra 10% will mean you can pick up a few extra bits and pieces that you left out of the virtual basket.

If there's one range guaranteed to make me all wistful about having a tiny baby in the house it's Millie and Boris - I adored them when I was preggo with my youngest and looking at them just now brought all those cute newborn baby memories flooding back (however, I've done my bit for the human race it's over to you guys now!).
Just look at this embroidered Millie and Boris cotbed blanket - it's LOVELY (there's a pram version too); already reduced from £25 down to £20 and if you buy it tomorrow you can have it for £18.

An eagle-eyed HUKD member has highlighted that the "Scoot city scape is currently down from £425 to £212.50. Order it on Saturday and you'll get it for £191.25!" - thanks LoozR!
If you're in the market for nursery furniture then this complete solid pine Fern collection (wardrobe, chest of drawers/changer and cotbed!) is down from £875 to £499 and with the extra 10% you can take off an extra £49.90 and have the lot for just £449.10.
LOTS of other things for you to choose from - FAB maternity clothes, baby clothes, toys - so I'll let you go and wander off now and get your Mamas & Papas shopping list ready for tomorrow - all you need to do is add the things to your basket and enter the promotion code when you review your order.
Enjoy!
Thanks to kitkat over at HUKD for the heads-up on this!