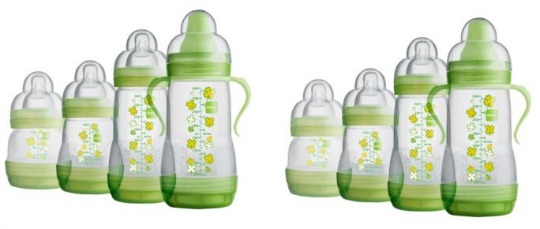 I'm a massive fan of MAM baby feeding bottles, and right now the MAM Anti-Colic Self-Sterilising Bottle Starter Set is reduced to £19.99 at Amazon.
You'll get a total of fifteen items in this set; two 130ml bottles, two 160ml bottles, four 260ml bottles, four sealing discs, a soft spout, a handle and even a dummy.
I can't vouch for whether these actually help to ease the symptoms of colic or not, although the reviews are pretty impressive, with lots of people saying they wouldn't use any other bottle. A total of 225 customers have rated this set an average 4.3 stars out of a possible 5 stars, with 152 customers giving it the full five stars.
The self-sterilising feature is particularly genius, too. You just wash the bottle and bung it in the microwave for three minutes and voila - sterilised bottles, without the need to faff around with sterilising tablets or gadgetry.
Delivery will be free, too, as is always the case with Amazon orders over £10.