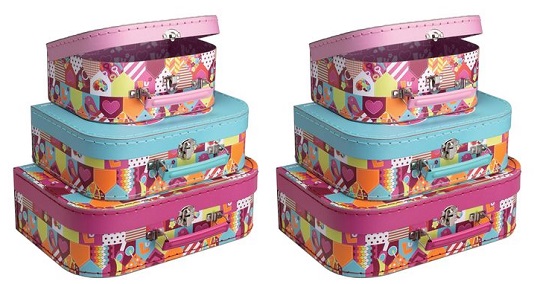 Save a lovely £10.00 on the Luvley Nesting Carry Cases from Hamleys. These cute, pretty and convenient cases are now half price, reduced from £20.00 to £10.00. Hurry and get them while they're on sale at Hamleys.
Every girl needs somewhere safe to keep all those important knicks and knacks and that's why the guys at Luvley have created these super cute, and very colourful, carry cases, just for her! This pretty set of Luvley themed Nesting Carry Cases features the bespoke Luvley print throughout, a stitch trim and a secure fastening to keep out pesky siblings.
The fun Set of three Luvley Nesting Cases is ideal for girls to store everything from hair accessories and beauty essentials, to play sets and stationary. They'd be great for travelling too. They're so pretty that they're great in girls' rooms from a décor point of view and the best bit by far for mum is that they're a handy tidying tool too. What more could we all ask for?