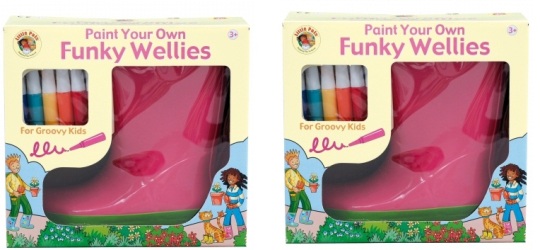 Muddy Puddles has discounted some of their awesome waterproof products with prices really dropping below 50% in some cases. The deals are great and just in time for the Spring showers. Brilliant.
My personal favourites out of all the waterproof items in the sale have to be the Paint Your Own Wellies (down to £4.50 instead of £15) and the spiffing Waterproof Pullover Jacket. There are not of items in the sale right now but they are added as the days go by so keep checking in. Certainly the ones that are reduced are REALLY low.
However, as you amble through their waterproof section in search of deals, try not to get too distracted by the awesome Ladybug Wellies. Oh man, I LOVE those…
Anyway, other items included in the sale are black waterproof jackets – great for school – and a bunch of summer and winter goodies that are listed under their Clearance section. Have fun and I hope you nab an awesome deal.