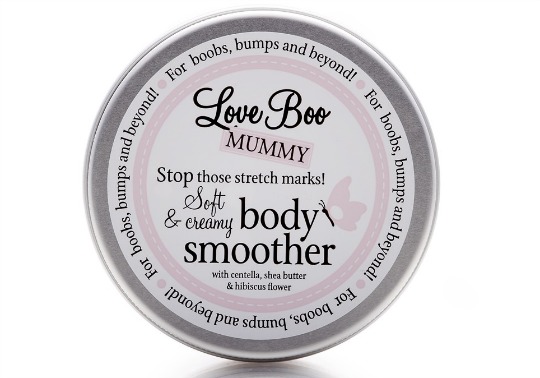 This soft and creamy body smoother by Love Boo has become one of my all-time fave products, and it's perfect for use during pregnancy (but you're likely to love it so much that you'll keep using beyond the bump stage).
It's certainly not cheap at £14.99 for a 190ml/6.40fl oz container but a little goes a long way, and it's one of those rare products that I feel is actually worth the extra stretch on my purse strings.
Containing centella, shea butter and hibiscus flower, it's good for  soothing itchy bumps and preventing stretch-marks and cellulite. It's also completely non-greasy and has a smell that I can only describe as addictive.
You're meant to massage a small scoop all over the body in circular movements (paying special attention to all the 'bits' that stretch during pregnancy) and if you apply it to damp skin when you step out of the bath or shower it's meant to absorb ultra-quickly and deeply.
I haven't tried it for this purpose but I'm told it's also good for soothing all those irritating patches of dry skin - the Love Boo website recommends rubbing it into cracked, dry heels and slipping on a pair of socks before jumping into bed - apparently you'll wake up with super-soft tootsies.
Here's a customer review to give you an idea of what other people have to say about this:
"This stuff is fantastic! It rescued my skin on my bump. In just a few days it went from dry and itchy to smooth again! I've tried a few other butters and this is by far the best. Ive just ordered a new pot and some more goodies and the lady on the phone was lovely and so helpful."
Pros: Amazingly effective and easily-absorbed body butter, safe for use during pregnancy and while breastfeeding.
Cons: It smells so good you'll want to eat it on toast.
Overall verdict: 9/10 At almost £15 it's not the most affordable body butter and you might regret developing a costly addiction but if you're looking for a special skincare treat for yourself or a mum-to-be, this is my top recommendation.