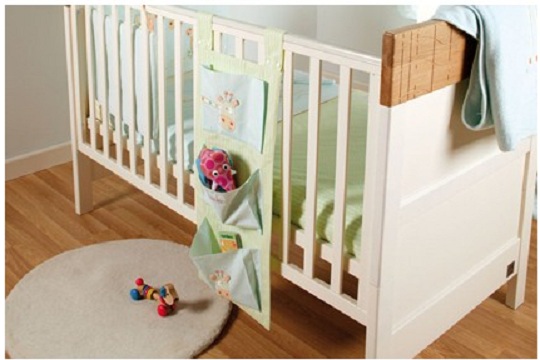 Save £9.20 when you buy the Lollipop Lane Will I Be Big Cot Tidy from Bambino Direct for just £10.79. The beautiful Cot Tidy hangs conveniently on the outside of your baby's cot to store toys, dummies and other useful items.
The Cot Tidy attaches to the side of the cot and is so convenient for storing toys and other baby accessories. You won't be scratching around for dummies and other essentials during that middle of the night trip to the baby room. The Cot Tidy will also make a great gift for new mums or the next baby shower you're invited to.
This enchanting Cot Tidy in a fresh, pastel colour palette combines a chalky aqua colour with an apple green stripe in luxurious ribbed velour and crisp cottons. With piping, woven badges and jersey bindings, this adorable Cot Tidy pays close attention to detail, whilst remaining fun and cheerful. Embroidered onto the product are the inquisitive Jack the baby giraffe and his loving mummy. The dimensions of this Cot Tidy are 33x83cm.