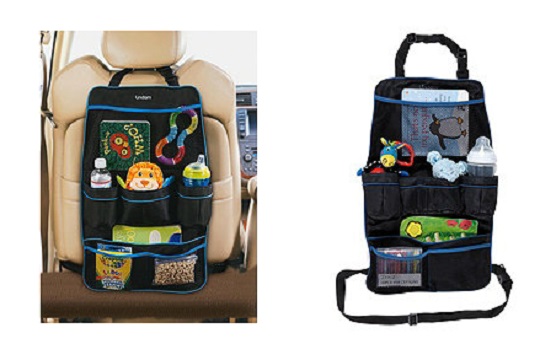 It's time to go and organise the mess in the car with the Lindam Back Seat Organiser from Tesco Direct. This nifty little accessory was £7.94 but has now been reduced to £6.00 so you'll be saving £1.94, it all helps.
I know clearing up the car sounds like a terrible chore but this neat little accessory will help make it a lot easier. The organiser attaches to the back of one of the front seats, neatly out of the way and great to hold all the bits and pieces you need in the car. They're also great to store toys and other items that you need to have easily accessible so that you can grab them for the kids while you're on the go.
The Lindam back seat organiser provides compartmentalised storage for toys, snacks and drinks, helping to keep the car tidy and organised. The Lindam organiser also has the added bonus of protecting the backs of seat from becoming grubby. The organiser simply secures onto the back of the driver or passenger seat with the attached straps and off you go!