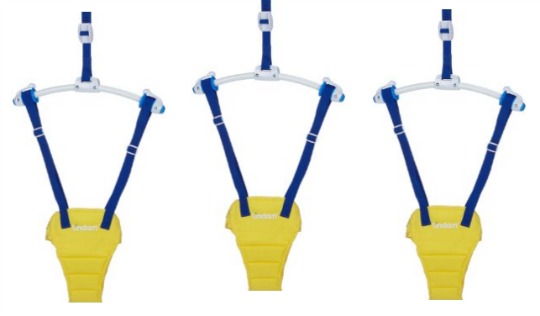 Door Bouncers are great for little babies that love to bounce. Not everyone has the room or the cash for a bulky, expensive Jumperoo, so a Door Bouncer is the next best thing. Lindam are famous for making child safety products so if I was to buy something that suspends my baby from a door, it would definitely be from them. Just £13 gets you one of these popular Lindam Jump About Door Bouncers from either Amazon or Tesco Direct.
The Lindam Jump About Bouncers are tested to one million bounces so no matter how energetic your little one is, you can be sure of it's safety. It's been rated 4.5 stars on Amazon and 4.6 on Tesco Direct. They are very liked by little tots and parents alike.
The seat is padded and fully supportive for little bums and backs. The bouncer is height adjustable and fits to door frames by a secure clamp.
Delivery is FREE when bought from Amazon but will cost you £3 from Tesco Direct. You can collect it though from Tesco for FREE should you choose to do so.