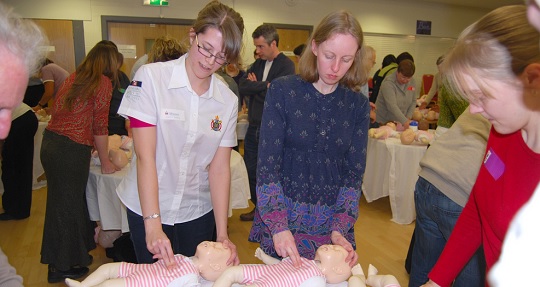 Shocking statistics reveal that across the UK, four out of five people wouldn't know what to do if their baby stopped breathing. The Royal Life Saving Society (RLSS UK), the official charity drowning prevention, are launching workshops nationwide to equip all parents or child carers with the skills that could help them save the life of their child should they encounter a choking or drowning situation.
The Royal Life Saving Society (RLSS UK), the UK's national drowning prevention and water safety charity, is launching Save A Baby's Life  - a new campaign to reduce these horrible statistics and give parents and others who care for children the confidence to put emergency lifesaving skills into practice if, in the unlikely event, a baby's life is threatened.
Local leisure centres and community groups across the country will be hosting Save a Baby's Life workshops where trained instructors will cover basic life saving techniques and provide advice on what to do when a baby stops breathing, or how best to deal with a choking or drowning situation. Using a life-like baby manikin, people will learn how to perform basic CPR and first aid as they would in a real life situation.
Don't miss this opportunity, it's free and you never know when you might need to know how to save a baby's life.