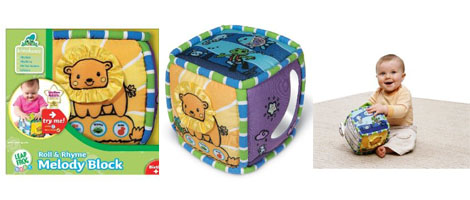 LeapFrog really do have a bunch of ace educational and entertaining toys in their range, and this particular gem is great for little ones who are just starting out in the world. Down from £14.99 to only £7, including free delivery, it's a lovely half-price deal from Amazon.
There are very few of these items left in stock at the moment so do hurry if you want to grab one for either your own baby, or a friend. The LeapFrog Roll & Rhyme Melody block has six colourful and musical sides with each side playing a different style of music.
The block is brightly coloured to capture your baby's imagination and has been made from different types of fabrics and textures to encourage tactile play. It is ideal for babies from birth and the little tunes will enchant them as they explore the different textures and colours.
These toys are hugely popular with most of the mums I know, they adore the LeapFrog stuff, and this particular gem is a winner with the mum I bought it for. Well, not for her, obviously, but her little boy.
Thanks to shadow1 at HUKD!