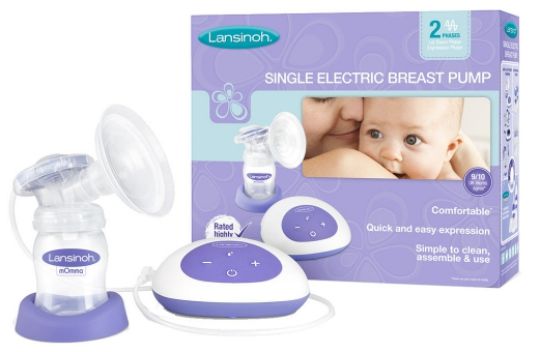 There's not many places you can get an electric breast pump for less than £60 nowadays. If you are looking for one but are finding them all too expensive, then it's definitely worth taking a look at the Lansinoh Single Electric Breast Pump. It is currently half price over at Babies R Us for £49.99, however you can also get a further £5 off by entering the code 9908084429995 at the checkout.
If you are planning on breastfeeding then I cannot express (no pun intended!) to you the benefits of having an electric breast pump rather than a manual one. Mine was a godsend, I started with a manual breast pump but found it too much of an effort especially with a newborn who constantly wanted to feed. The electric one was much quicker and was much more comfortable.
One of the design features of this breast pump is to mimic baby's natural breastfeeding pattern. There are 2 phases -'Let down' to initiate and stimulate milk flow and 'Expression' to maximise milk flow. Within these 2 phases there are 6 different adjustable settings. It is easy to clean and can also run on batteries if you are out of the house and cannot plug it in. Also included is a sealing disc to store your breastmilk and a NaturalWeave Teat designed to maintain established breastfeeding patterns.
Delivery is free as the items is over £29.99, the free Click and Collect service to a local store is also available on this item.