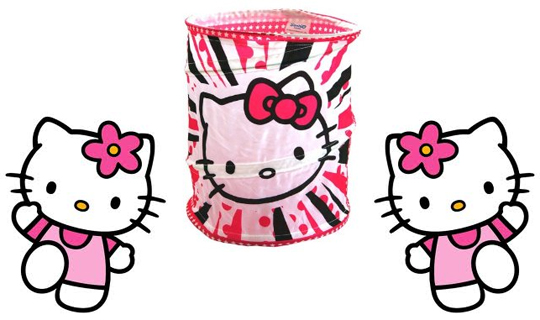 Amazon are selling this Hello Kitty pop-up storage bin for £2.84 instead of £4.99.
Pop-up tidy storage bins are just marvellous inventions.
Quick and easy to pop up and featuring the ever-popular Hello Kitty kitten, it's ideal for engaging in a bit of gentle 'parental persuasion', "Hello Kitty would want you to be tidy and put your toys away..." and, "What would Hello Kitty think about all your toys being left laying around if she popped in to visit?!"
I'm more than prepared to employ such underhanded behaviour, (needs must when it comes to saving our parental sanity!) although, I'm rather disappointed to report that such tactics don't work with teenagers.
Fear not though, posting horror pictures of their bedrooms on Facebook for all their friends is very effective!  I enjoyed every minute of the fallout from doing that *grin*
You don't have to use your Hello Kitty pop-up storage bin for toys though, you could use it as a laundry basket instead and embark on the 'please put your dirty washing in the Hello Kitty laundry basket' journey - best of LUCK!
Thanks to kingjagee at HUKD