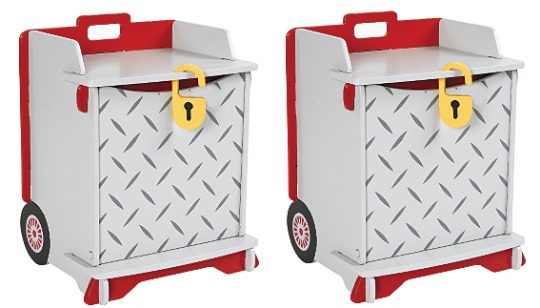 Don't you just love themed furniture for Children's bedrooms. I know I do! This Kidsaw Racing Car bedside unit is an absolute steal at only £37 at Asda Direct. It was £49 before and generally sells elsewhere for around the £50 mark. I often find themed furniture really expensive but this is such a great price for a fun piece of storage.
Check out this Kidsaw Racing Car bedside unit, it is a nifty bit of furniture. Enter code DELFREE at the checkout and get yours delivered for FREE. Not bad at all that paired with the £12 off makes this a very affordable bedroom item.
It looks just like a racing car toolbox and I just know that my boys would love something like this in their rooms. There's a false lock on it too.
What I like A LOT about this bedside unit is that it is self-assembly but requires no nails, screws or adhesives, it just slots together like a puzzle. It's red and grey in colour and made of MDF, so it'll be sturdy enough for a little one's room.
You can find DELFREE and other codes over at our vouchers section.