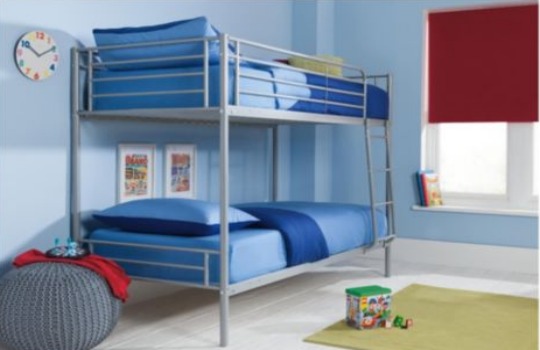 If your child is moving up a stage from a cot or cot bed to a single bed, or if a mid sleeper or bunk bed is what you are looking for then Tesco Direct have a selection of all of these starting from just £69! I think that's a fantastic price for bunk beds or mid sleepers, and it's rare to find them this cheap.
There are a total of five different bunk bed frames to choose from at £69, in different sizes, styles and finishes. There is a mid sleeper bed frame for the same price, and it even comes with a tent included! There is only pink in stock at the moment, but you can request a stock alert for the blue tent.
If you don't have much space then the shorty bunk beds could be a great solution. Mattresses for all these beds are also on offer in the End Of Season furniture event.
You do need to pay for delivery of these beds, as they are large items and will mostly require a two person team to deliver them. The charges are from £7.95 for the standard 3 to 5 working day delivery. Even with the delivery added on top less than £80 delivered for a bunk bed frame seems like a great price.
As this is end of season clearance lines stocks of some may be limited, but at the moment there are quite a few to choose from.