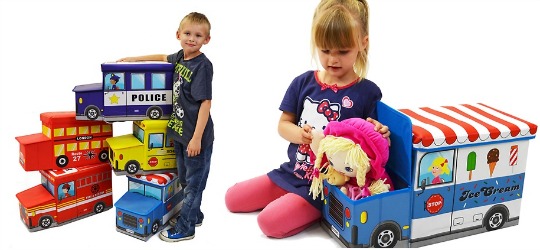 I've seen these storage seats before, only without the extra opening bonnet bit at the front, and all the feedback we had about them was how sturdy and strong they are. The 2-in-1 Storage Box and Seat that Groupon are selling are a new design, and it makes the boxes look much more like the vehicles they are based on. They are £6.98 each plus £1.99 p&p which is pretty great value.
There are 5 different designs to choose from: Ice Cream Van, London Bus, School Bus, Police Van and Fire Engine. The lid can be removed completely, and is padded to make it nice and comfy as a seat. The whole thing can also be folded down flat when you want to store it away.
There is limited availability, and you can only choose order quantities of one or two of these per customer, and you can specify your design choice. I don't know how much longer this offer is on for, but it does say 'limited quantity' on the Groupon website so there may not be that many left in stock.  I'll have the Ice Cream Van please!