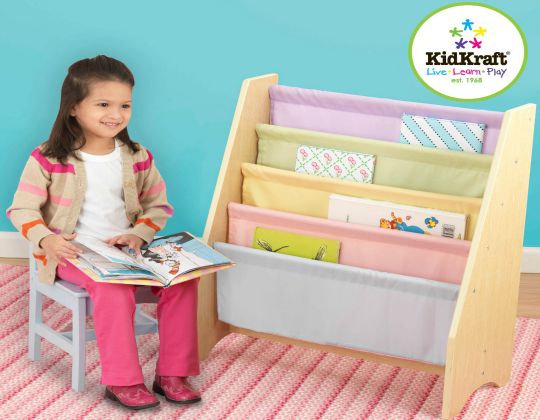 I love the little bookshelves down at my local library. You know the ones...bright, colourful and just the right height for small people to help themselves. Amazon are selling this KidKraft Pastel Sling Bookshelf for just £47.51 and that includes FREE delivery. This is the type that I am talking about. A lovely addition to a child's bedroom, and at a super price.
Normally you would pay around the £65 mark for the KidKraft Pastel Sling Bookshelf so this is a bit of a bargain.
What I think is great is the books are stored showing the front of them rather than the spine. That means that your little one can select their bedtime story with ease, rather than hauling out every book in an attempt to locate their favourite one.
The sling shelves are made from canvas which is gentle on rough children that ram their books in. Also you can personalise the bottom sling with embroidery should you want to.
It's also available in Primary Colours* for just £46.04 delivered but stock levels are very, very low.