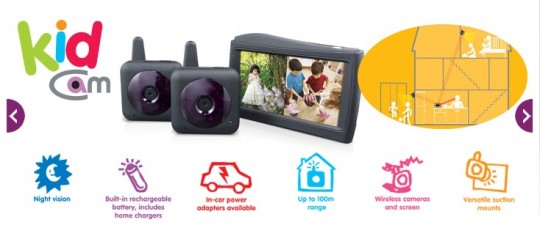 Storage Options is a CCTV and surveillance company that usually sells products aimed at the business and home security market. It has branched out a little, to use it's expertise to sell cameras aimed at parents.
Intrigued we got a Kid Cam (£159.99) for review.  This  is a two-camera system designed for older, more adventurous children. In particular, it has been designed to keep eye on several of the 'little ones' at once. You get two wireless cameras and a split-screen 4.3" companion screen. With Kid Cam you see and hear your offspring from any room in the house and even the garden. It has a range of up to 100 metres.
Keeping an eye on things
For this device, I did read the instruction before turning it on right away, unlike me (where I usually just turn something on and have a play). I wanted to make sure I did it right, and the cameras were synced up to the monitor, without any troubles.
The Kid Cam was very easy to use. The cameras and monitor are simple. You basically only have to worry about pressing the power on button. The units get each other's signal, and it comes on the screen right away.
As the Kid Cam came with two cameras, it's got a pretty cute function that you can see both pictures on the screen at the same time - split screen. You press the power button to switch between split screen mode, or between each camera.
The device comes with two different types of mounts for the cameras - ones with suckers, or ones on a heavier metal base that you can just sit it anywhere.
Setup
To start, I tried a camera in the baby's nursery, initially by using the sucker. To get a good angle on the room, I tried sticking the camera to the underside of a wooden shelf. By the time I got downstairs, I heard a loud thump, and the monitor screen was blank.
The sucker had come off the shelf, and the camera had fallen quite a distance, and smacked some of baby's toys off the shelf and onto the floor. There's a bit of a crack in the camera facing now... though it is as much because of my carelessness in not making sure it was well stuck on.
Picture quality
Regarding picture quality, it's pretty good during the day and in a fairly well-lit room. The cameras do also have infra-red capability too though, meaning you can use them in low-light conditions. To be honest, I think my expectations were a bit high in this regard, I was expecting something amazing like you'd see in the Blair Witch Project, or some scary Hollywood movie. The night picture was viewable, but not terribly clear.
Sound quality does not seem quite as good as you might get with a baby monitor, it was a bit crackly for this.
And finally ...
I'm definitely going to be use the Kid Cam a lot. If my little one is playing with her toys in the living room, I can stick the little camera up on the shelf and keep an eye on her if I need to do something else in another room.
However, I wouldn't buy one. At £159.99 I just simply cannot see how the item justifies the cost. Perhaps if you lived in a really huge house, with a large garden. But really I think that something like this plays on parental insecurities.
So, while it is a nice piece of kit and really easy to set up, the price definitely bumps the Kid Cam down a few stars in our ratings.
Overall verdict: 7 out of 10