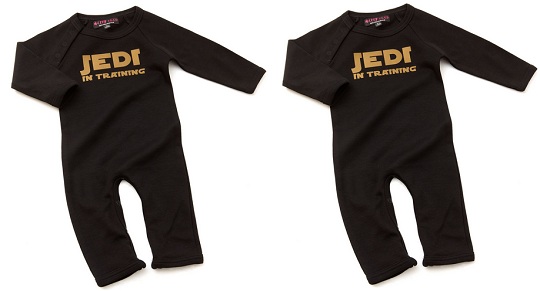 This funky 'Jedi in Training' baby-grow which was £15.99 has now been marked down to £12.99. And with the £3 you can add another fun and witty t-shirt for baby, mom or dad. Nappyhead offers free delivery on orders over £35. Alternatively standard UK deliveries cost just £2.99.
You're never too young to join the force! Whether you call them baby-grows, sleepsuits, playsuits, onesies or rompers, Nappyhead's exclusive range of baby-grows made from 100% cotton are simply the coolest on the planet! And we all know that you can never have enough baby-grows - newborns need a constant supply - so kit your baby out in this cool range.
Made of 100% luxurious cotton, this black Jedi baby-grow is emblazoned with a matt gold print and available in size 0-3 months only. All of Nappyhead's baby-grows have colour coded poppers on the legs for fuss-free dressing and are individually hand printed and machine-washable at 40°. They're also ethically produced (Fair Trade) with certified non-toxic prints. The cutest and funniest baby gifts, maternity wear and much more are only a click away, so check out Nappyhead's great selection and find funny and original gifts for newborns, mums and dads.