We're constantly told how expensive it is to raise a child. According to the Guardian, a recent study said that you're looking at a sum of almost £200,000 to raise a child from birth to age 21. That's a horrible total of nearly £10,000 a year!
With that in mind, here are seven money-saving resources you can't afford to be without. These will help you save money, prepare for the future and raise your child without the panic.
1. Freecycle

This online network spiders across the entire UK and is an unbelievably rich resource for parents and children alike. You can find your nearest branch by clicking here.
Everything posted on Freecycle is absolutely free, no money is allowed to change hands when you collect your goods. The plus side is that you can post a Wanted message to see if anyone has something you desperately need or you can Offer things that are cluttering up your home. The only downside, which some may find fine, is the fact that you'll have to traipse all over collecting your goodies and, if you're anything like me, you could get lost easily.
2. Sainsburys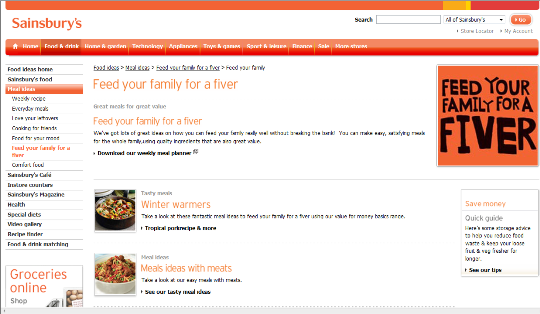 Sainsburys' Feed Your Family for a Fiver campaign is an excellent resource for the thrifty family. You'll find brilliant ideas and recipes to cut costs when cooking for all seasons. Tune in regularly for cheap, tasty meals that you can serve all year round that won't break the budget.
3. HotUKDeals.com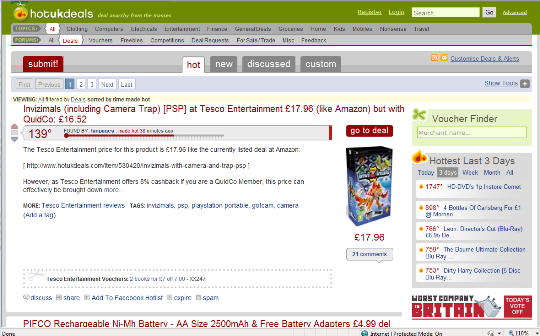 HUKD lives to promote the latest deals, special offers and so much more.
There's also a forum where helpful humans offer up advice and the latest news for all to enjoy. I strongly recommend visiting this site when you're about to embark on gift shopping of any kind. It's very easy to read and navigate and you'll probably walk away having saved a bundle on your shopping. You can also use it to find deals on essentials for you and your home.
4. Childcare cost cutters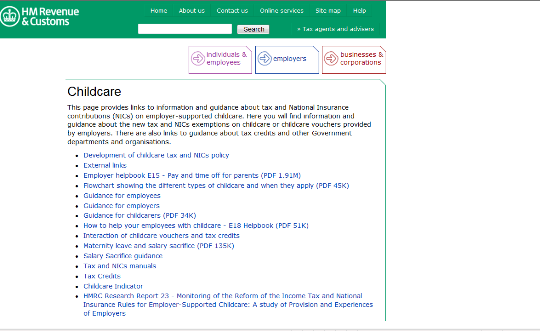 Many people find that during the first four years of their children's life there's no point in going back to work part time because the cost of childcare nullifies their salaries completely.
One good friend of mine worked out that if she did take a job she was offered, working mornings only, she would make a total of £5 profit each month. So while there are many different situations and yours may not be the same, there are ways for all parents to save money.
Look into your company's policy on childcare vouchers and apply immediately. You'll find a wealth of information about these and any tax credits that may be due to you right here. Make sure that you've filled in all the right forms and applied for all the benefits you're due for your situation. These amounts, no matter how big or small, can make a difference to your budget.
5. Childcarers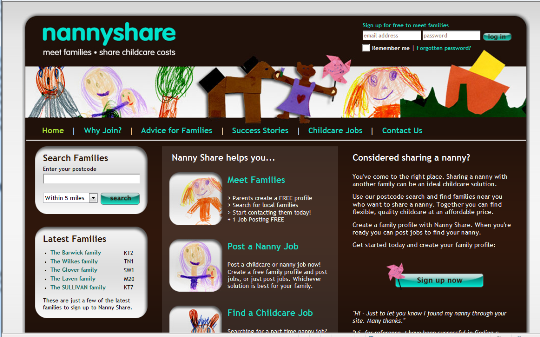 When you return to work you're going to need someone to take care of your children, unless you're one of the lucky ones who gets a corporate crèche!
While we've looked at the vouchers in the last point, there are some other options that could work in your favour. How about trying organisations like Nannyshare.co.uk? There are plenty out there and all offer you different choices. You can end up saving a bundle while still retaining complete peace of mind.
6. eBay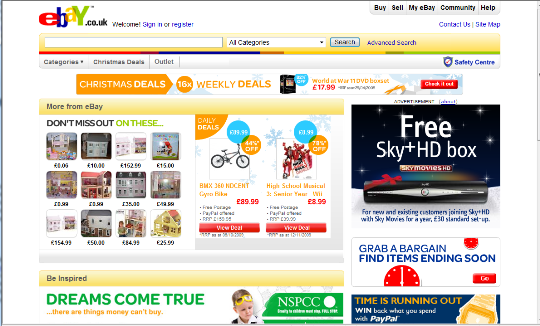 If handled properly with due attention to fraudsters, postal charges and retail prices you can really get yourself some incredible bargains on eBay.
There are many tricks you can pick up on how to bid for your items carefully, how to use sniper software that does the job for you and how to not spend more than you would have if you bought it new. From doll houses to slides to baby clothes, there are some fantastic deals on there that will save you bundles of cash. You can kit out all your newborn essentials like clothes and cots as well as supply your toddlers and teens with an endless supply of toys and necessities.
7. BBC Parenting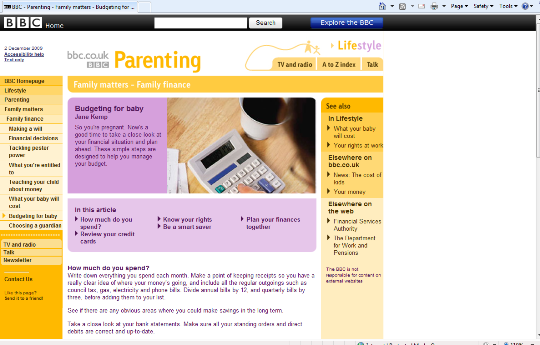 This site is packed full of tasty tips for parents. From planning your finances to teaching your children about money there is good advice from experts there.
The BBC Parenting site isn't remotely patronising and doesn't assume a level of knowledge either. It's easy to navigate and provides you with some excellent tools to manage your parenting life and your budget. The plus side is that you will get a great overview on issues you're likely to encounter as a parent over the years so you can plan ahead.