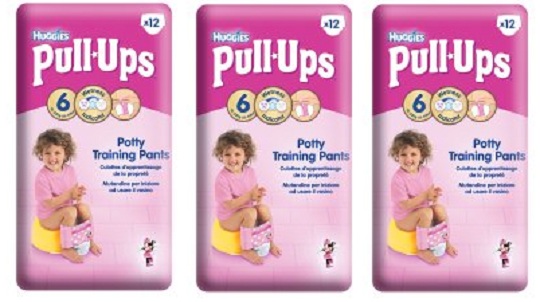 Tesco is offering two of these 12-pack Huggies Size 6 Pull Ups for girls for just £7! Normally £5.48 each, that's a very helpful £3.96 saving! This offer is valid until the 11th of November so get online now! Tesco has various affordable delivery plans that you can choose from including the Midweek Plan where no delivery charge is levied on deliveries on Tuesdays, Wednesday and Thursdays when you shop groceries online. Check it out today!
Huggies Pull Ups make potty training more fun and easier because they fit like underwear, with super stretchy sides so  they're easy for your toddler to pull up & down...like big kid pants. They also feature learning graphics which means they fade when wet & help little ones to see the difference between wet & dry. They're also printed with Disney Cars & Princesses which make Pull Ups look like fun big kid underwear. Huggies have even thought of Mum with their easy open sides which make it easy for Mum to check little accidents and removes as necessary.
This 12-pack is designed for little girls from 16-23kg and Huggies also offer a night time range. For more info on potty training visit www.pottytraining.co.uk.