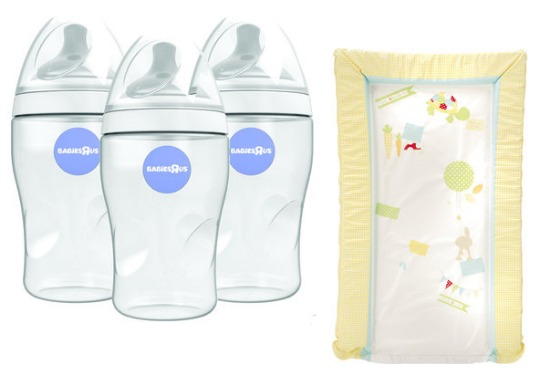 Having a baby is painful, but not as much as paying for the upkeep of one. Don't they need a lot of stuff, or should I say we need a lot of things to make looking after them that bit easier. I know a way to keep the costs minimal without having to buy second hand. Nip over to to Babies R Us sale and you can find lots of great savings on those items we must have to help look after our little cherubs. Items start from a teeny tiny 26p and if you spend £30 you can get £5 off. To get this additional discount just simply enter the Toys R Us voucher code 9908083049996 at the checkout.
There's A LOT of great buys in the Babies R Us sale. Silicone Slow Flow Teats* for 26p and just £2.96 for three Simply Pure Wide Neck Bottles*.
There's a couple of safety items like the Smoke Alarm* for just 46p and the Jamm Door Stop* for the same price.
If you are looking for items for the nursery then check out these items: Hip Hop Hooray* for 46p, Best Friend's Wall Hangings* for £1.96, Tickety Boo Uplighter* for £1.96 and the Tickety Boo Blanket* for £1.96.
Some of the sale items are not available online but can be reserved from your local store.