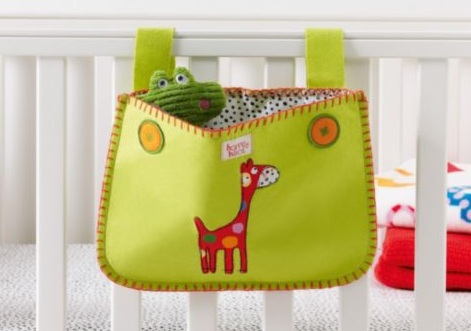 Mamas and Papas have a pretty good sale on at the moment, with up to 50% off on selected furniture. One of the items on sale is this Hoppity Hoot nursery tidy reduced from (who ever paid that!) £16 to £3. Delivery from Mamas and Papas is £4.95, unless you spend over £50, then it's free - but you can also collect for free from a store.
Designed with a gorgeous mix of bright prints and felt appliqué details, this nursery tidy is both eye-catching and practical, providing a handy storage solution for your little one's room. Perfect for keeping favourite toys, muslins, wipes etc. close to hand and can easily be attached with the fabric ties.
This strikes me as being relatively small, so it's not a toy tidy - it's for a bag of wipes, somewhere to keep soft toys, and maybe a spare dummy or whatever you might want to get hold of at night without having to switch a light on to find it.
It's a really good price though, so if it's your kind of thing, it's worth grabbing, especially if you can collect it.