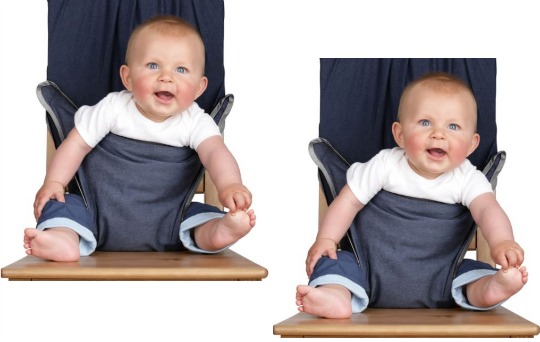 Once your baby gets to that age where he/she needs to be sat in a highchair to eat you are stumped if you go to Granny's house or even a restaurant that doesn't have any. Believe it or not those places exist. We bought something like the Hippychick Tot Seat and gosh is it a lifesaver. It folds neatly into my handbag and gets pulled out whenever we need an impromptu highchair. Get yours from Boots.com where the Blue Denim coloured one is half price at just £12.25. A really good price for such a fabulous item.
The Hippychick Tot Seat works by slipping over the back of pretty much any dining chair. It provides a safe place for baby to sit when you are dining. I use mine in my local coffee shop as it's too small for highchairs. My little Daniel loves his.
It is secured by a clip and is height adjustable so you don't have any worries of baby falling out. From babies of eight months old to tots of two and a half years the Hippychick Tot Seat can accommodate.
You can click and collect this item for FREE or pay £3.50 for home delivery.